BONDING SYSTEM
Dunlop Ultima can be bonded to most surfaces using the majority of good quality cold bonding systems available in the market. In applications where Ultima with an adhesive layer (AL) is used there is no need for time-consuming grinding prior to bond. The adhesive layer is protected by a plastic film, which enables rapid processing. The combination of high adhesion and high tensile strength in the adhesive layer ensures maximum bond strength and increased reliability.
EXCELLENT WEAR RESISTANCE
SAFE TO HANDLE – FULLY COMPLIANT WITH REACH REGULATIONS
EXCELLENT ADHESION CAPABILITIES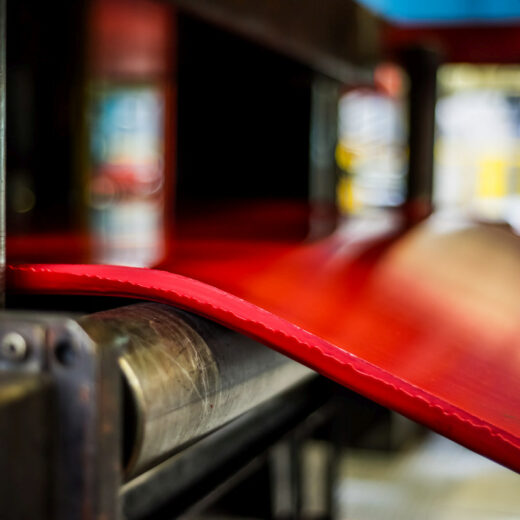 PULLEY LAGGING
MADE FROM HIGH ABRASION RESISTANT PREMIUM GRADE RUBBER
Because it is made from high abrasion resistant premium grade rubber, Dunlop Ultima Pulley Lagging provides outstanding wear life and value for money. The grooved diamond profile allows moisture to disperse and reduces material build-up and slippage between belt and pulley. The lagging also effectively acts as a wear indicator so maintenance can be planned before the steel face of the pulley becomes damaged.